TRUE PASSION LIKE YOURS DESERVES A REWARD
We know that teachers always put their students first. Whether you're buying extra classroom supplies instead of concert tickets, or staying after school to help students study. Lakeside Chevrolet recognizes the hard work and dedication of our educators. For making us who we are, Lakeside Chevrolet is proud to put teachers first with the GM Educator Discount.
The GM Educator Discount allows current employees of a public school, private school, university, or college to purchase or lease eligible vehicles at a discounted price - saving hundreds, even thousands, on new Chevrolet vehicles. Combine the GM Educator Discount with most current incentives to save even more!
WHO IS ELIGIBLE?
All educators, administrators, faculty, and support staff who work at a public school, private school, university, or college - including their spouses and dependent children - can take advantage of this incredible discount available on select new vehicles.
Call Lakeside Chevrolet at (574) 269-1666 to see if you qualify.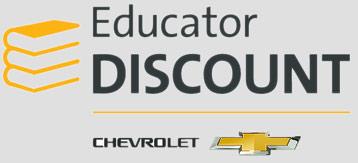 1 Dependent children must be either under 21 years of age or full-time students under 25 years of age on the date of purchase.
2 Participants must also present a copy of their school ID/badge or a copy of a current pay stub (within the last 30 days) with all information redacted except the date of the pay stub, their name, and name of their school as well as a copy of your driver's license with the license number redacted